Healing begins when you RECONNECT the mind and body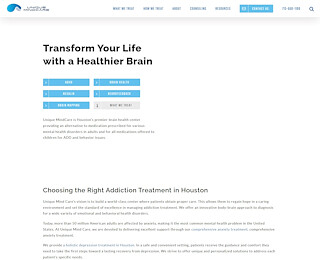 A balanced mind is the best way to ensure a healthy and happy life. When your brain is balanced you have the potential to do anything you choose. The brain is the center of your body and it has control over your activities, thoughts, and performances. Whether you suffer from an illness or disease or simply want to improve your memory, you can benefit from neurofeedback in Houston.
Drug Free Treatment
When you have a disorder such as ADHD, autism, anxiety, OCD, PTSD, depression or insomnia you may be treating the problem with pharmaceuticals. While medications can help suppress the symptoms of the disorder they do nothing to resolve the underlying cause. At the same time, prescription drugs often produce a number of unpleasant side effects.
Medications can cause a wide range of problems such as headaches, rashes, body aches, nausea, stomach pain and more. Sometimes taking a particular medication will put you into a haze in which you don't perform your best. You may feel as though you are simply going through the motions but are disconnected from the real world.
There is a way to treat your condition without the use of drugs. Neurofeedback in Houston is a method of training brain activity to create more balance. In many cases, this will help with the underlying cause of the problem and you will eliminate or reduce the need to take medications.
Understanding Neurofeedback in Houston
The brain is amazing and controls everything we do. Neurofeedback therapy begins with a complete assessment and diagnosis. Brain mapping may be used as a diagnostic tool to evaluate brain function. Brain mapping measures the electrical activity in all of the many areas of the brain. Evaluation of this data can assist in determining areas of the brain that are not functioning optimally.
Neurofeedback is a drug-free non-invasive way to make positive and lasting changes. It can be used with children as well as adults so it is a good alternative to typical drug treatments for ADHD. The method allows you to retrain and rebalance your brain function so you can perform at your best.
Neurofeedback in Houston will result in the restoration of your brain resources so you can improve your memory, reduce stress and improve energy levels. Your brain will allow you to be calmer and more alert. You can more easily deal with the problems that life throws your way.
Neurofeedback therapy monitors brainwaves and stimulates healthy performance. You will receive immediate feedback through the use of sound, images or both. This information is collected using sensors placed on your head. The feedback you receive helps you to retrain your brain to function more efficiently. This type of therapy provides a customized exercise program for your brain. We monitor brain activity in real-time using computer technology.
During a neuropathy therapy treatment session you will be provided with visual and audio feedback such as animations, graphics, puzzles, graphics, sounds, and tones. These will encourage the brain in areas that are lacking and train your brain to function at an optimal level.
Neurofeedback Houston
We welcome your comments!